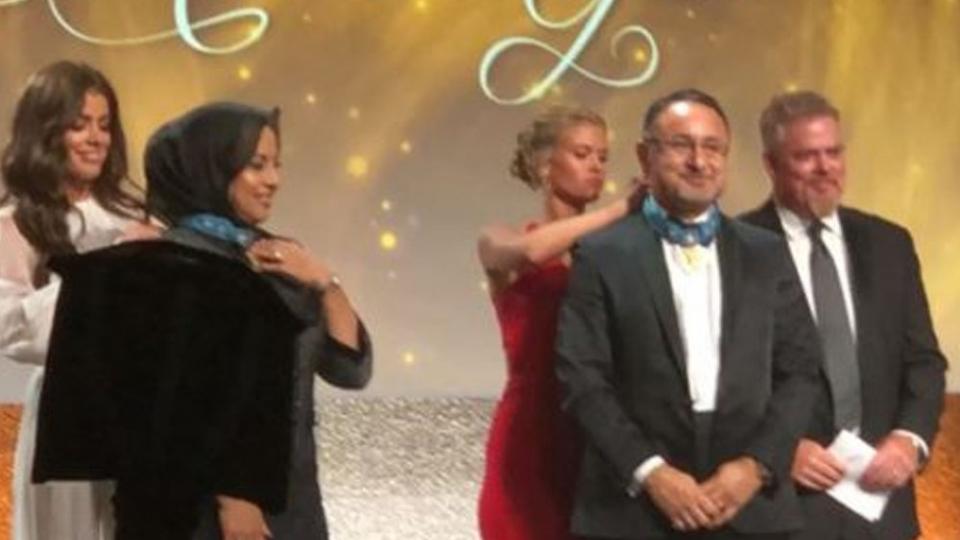 Afghanistan's Most Renowned Philanthropists Honored For Their Efforts To Bring Hearing, Healing, And Hope To Afghans
Kabul, Afghanistan—July 18, 2018—The Bayat Foundation (bayatfoundation.org), Afghanistan's largest, private, non-profit health, education and social development organization, announced today that its co-founders, Dr. Ehsanollah Bayat and Mrs. Laya Bayat, are the 2018 recipients of the "So That The World May Hear," Award from The Starkey Hearing Foundation (starkeyhearingfoundation.org).
The award—The Starkey Hearing Foundation's most prestigious honor—was bestowed upon Dr. Bayat and Mrs. Bayat in recognition and celebration of the Bayat Foundation's success in improving the lives of Afghans in two critical areas:
The successful implementation of four annual joint Bayat-Starkey Hearing Care Missions, which have brought The Gift of Hearing to more than 4,000 Afghans since 2014;
The Bayat Foundation's tremendous achievement in providing education, healthcare, clean water, emergency and family assistance to millions of at-risk Afghans since 2005.
The "So That The World May Hear," Award was presented to Dr. Bayat and Mrs. Bayat during The Starkey Hearing Foundation's Annual Gala, held on July 15, 2018, in St. Paul Minnesota.
Joining Dr. Bayat and Mrs. Bayat as 2018's "So That The World May Hear," Honorees were Dr. Timothy P. Shriver, Chairman of The Special Olympics; Producer and Philanthropist Shep Gordon; and award-winning songwriter Paul Williams. Previous recipients of the "So The World May Hear," Award include Former President Bill Clinton, Desmond Tutu, Ben Affleck, Jennifer Garner and Former UK Prime Minister Tony Blair.
Starkey's Annual Awards Gala—among the most popular and successful philanthropic events of the year—was attended by an at-capacity audience of the world's most influential, successful and beloved artists, entertainers, philanthropists, and political leaders, including Former U.S. President Bill Clinton, Billy Crystal, Ray Lewis, Evander Holyfield, Frankie Muniz, Sinbad, Forest Whitaker, Gloria Gaynor, Alice Cooper, and America's Got Talent champ Darci Lynne Farmer.
Delivering a joint acceptance address to the audience of renown philanthropists, artists and public leaders, Dr. Bayat and Mrs. Bayat emphasized the power that service to others has to transform individual lives—and to make a better world.
"Bill Austin shows us that you live life by giving everything you have to give. And then you give some more," said Dr. Ehsanollah Bayat, the Chairman and Co-Founder of the Bayat Foundation.
"And it is this commitment of selfless, lifelong service to others, that we at The Bayat Foundation have been privileged to share in the four years we have worked with the Starkey Hearing Care Teams to bring the gift of hearing to Afghans."
"When we say, 'So That World May Hear,' we are also declaring 'So That The World May Hope,' 'So That The World May Love,' 'So That Our World May Be Transformed.'", said Mrs. Laya Bayat, Co-Founder and President of The Bayat Foundation. "Each of you…are using your different talents and determination to complete the hard, but beautiful work of making a world that can be healthier, more tolerant and peaceful. A world that all of us –and our children—can be proud to live in."
About Starkey Hearing Foundation:
Starkey Hearing Foundation uses hearing as a vehicle to reflect caring and change lives around the world. Disabling hearing loss affects more than 360 million people, including 32 million children, worldwide, yet many do not have access to the hearing devices that can help them. Starkey Hearing Foundation fits and gives more than 100,000 hearing aids annually, and as a member of President Clinton's Global Initiative, it has pledged to fit one million hearing aids this decade. In addition to giving the gift of hearing through worldwide hearing missions, Starkey Hearing Foundation promotes hearing health awareness and education through the Listen Carefully campaign and provides hearing instruments to low-income Americans through the Hear Now program. For more information on Starkey Hearing Foundation, visit www.starkeyhearingfoundation.org.