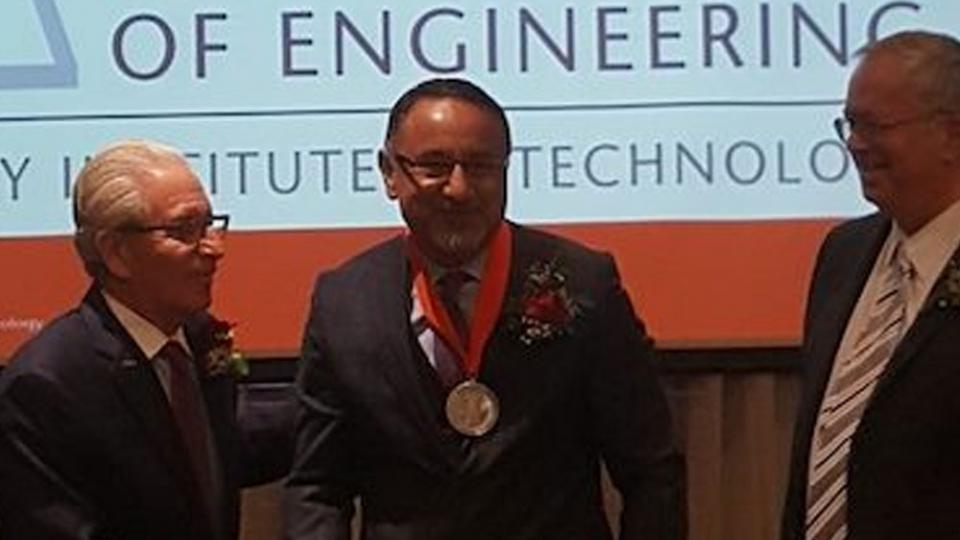 Founder of Afghan Wireless, Ariana Television and Radio, Bayat Energy and The Bayat Foundation Honored For Transformative Contributions to Telecommunications, Technology and Afghanistan's Economic and Social Development
Kabul, Afghanistan—March 8, 2019—The Bayat Group (www.bayat-group.com), Afghanistan's largest private Communications, Media and Energy Company, announced today that the Bayat Group's Founder and Chairman, Dr. Ehsanollah Bayat, a 1986 graduate of The New Jersey Institute of Technology (NJIT) (www.njit.edu), has been inducted into The New Jersey Institute of Technology Alumni Hall of Fame. NJIT conferred the Alumni Hall of Fame Achievement Award to Dr. Bayat and other NJIT Hall of Fame Recipients at a ceremony on NJIT's Newark Campus on Thursday, March 7, 2019 at 5:00PM.
NJIT's Alumni Hall of Fame Award, which is bestowed by NJIT's College of Engineering, honors alumni of NJIT, who have made groundbreaking and transformative contributions to the Engineering and Technological Sciences. Other 2019 inductees included New Jersey State Senator Paul Sarlo, General Ellen Marie Pawlikowski (USAF, ret.), and other innovators within the disciplines of digital computer art, 3D animation, physics, mechanical engineering and wireless sensor networks.
Dr. Bayat, who earned his Bachelor of Science degree from NJIT in Electrical Engineering Technology, founded Afghan Wireless, (www.afghan-wireless.com), Afghanistan's first wireless communications company in 2002. Afghan Wireless currently provides over 5,000,000 Afghan businesses and consumers with the world-class, high speed communications infrastructure, enabling Afghans to connect with the world.
The Bayat Group is Afghanistan's largest private company, as well as the nation's biggest employer and leading provider of private direct investment. Afghan Wireless is a division of the Bayat Group of companies, along with Bayat Energy, (www.bayat-energy.com), Afghanistan's largest Afghan owned and operated energy exploration and power production company, ATN News, (www.araiananews.af), Afghanistan's most widely watched 24-hour news network and Ariana Network Services, (www.ans.af), a provider of high-speed Internet and WIMAX services.
"Being inducted into NJIT's Alumni Hall of Fame is such a tremendous honor," Dr. Bayat said. "Thirty-three years ago, NJIT empowered me with the education which enabled me to transform my passion for using communications and networking technology, into Afghan Wireless and The Bayat Group," he said. "I will always be a proud—and a profoundly thankful—alumnus of The New Jersey Institute of Technology."
About Bayat Group
Founded by Mr. Ehsan Bayat, The Bayat Group (www.bayat-group.com), is Afghanistan's most prominent diversified services company, comprising Media and Telecoms (Afghan Wireless, Ariana TV/Radio), Energy and Mining (Bayat Energy), Construction, Security and Logistics Enterprises. A leader of Afghan-based economic development, The Bayat Group provides employment to more than 6,000 Afghans through its direct operations and employs more than 100,000 other Afghan citizens through its ecosystem of dealers and vendors.